Live in Christian Community
The Campus House is a great place for Bloomington college students to live. Our mission is to help students pursue authentic faith and build intentional communities while in college. To do this we build up our students to send them out, train them in truth, and encourage them to be a blessing, ask the tough questions, and do life together.
As the hub of CSF's ministry, the Campus House is a common meeting place for various events throughout the ministry. This also conveniently allows students to have instant access to the CSF Staff and fellow Christian students.
Campus House Amenities
In-House Cook

All Utilities Included

Air Conditioning

Free Laundry

Internet: wireless and high speed in rooms

Multiple Lounge Areas

Study Room/Spaces

Ping-pong and Pool table

Basketball Court

Indoor Bike Storage

Start of B-Bus Route

Bed, Desk, and Dresser provided in rooms

Christian Community & Friendship, Discipleship, Networking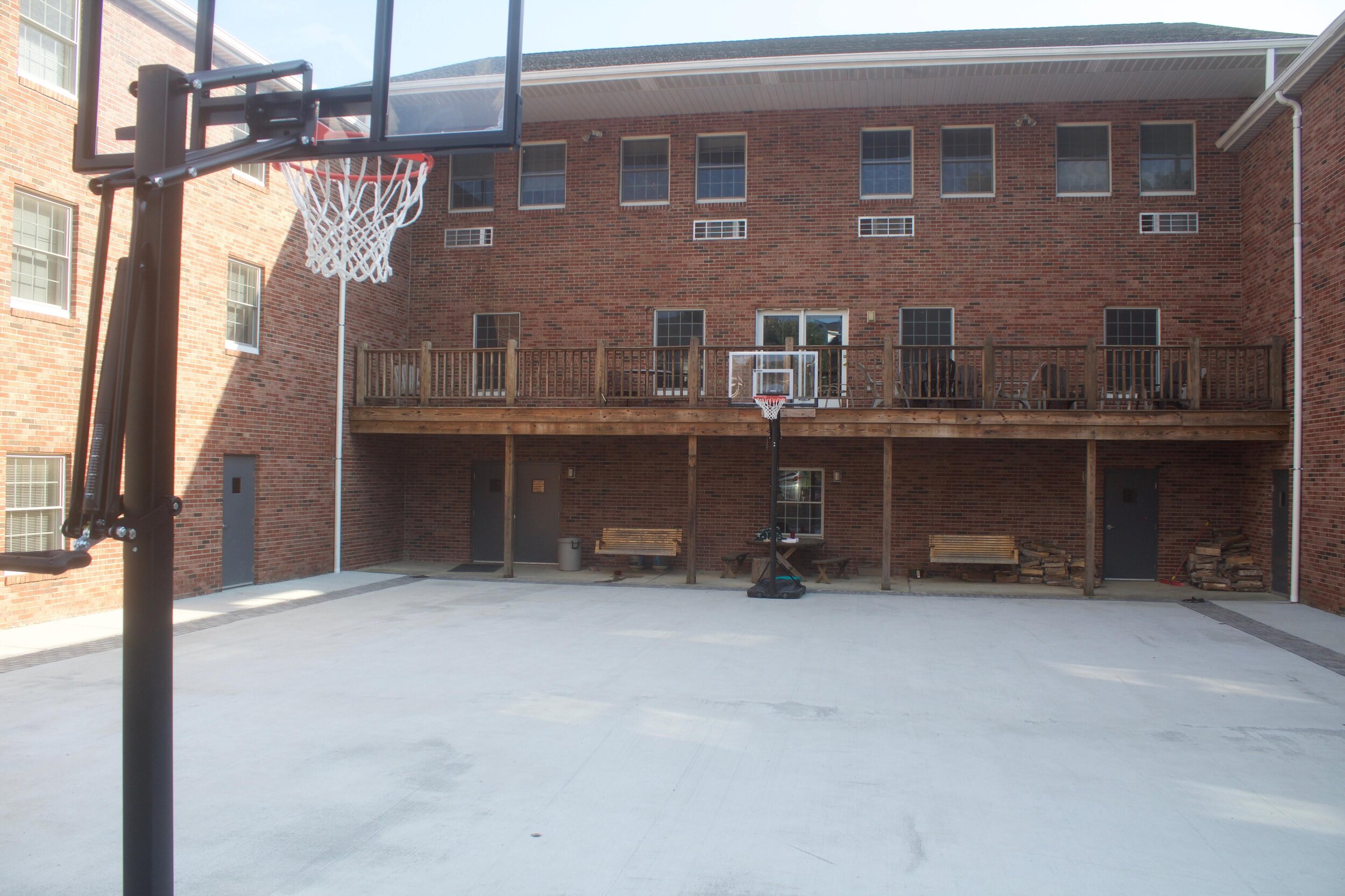 The campus house is a ministry home for CSF. Residents have the added bonus of having it be their residential home too!
Here's a few more bonuses for being a campus house resident:
Welcome week activities (especially for freshmen)

Free cost for many CSF events

Exclusive resident events

Big/Lil relationships

Returning resident perks - reduced rent, priority room & parking choices
CSF has a ton of ways to be involved...and when you live at the Campus House you will naturally have even more opportunities to connect, serve, and be involved.
We don't expect you to do everything...but there are a few things that house residents are signing up for:
-Regularly attend Encounter (Thursday night worship service)
-Attend the monthly house meetings
-Participate in a big/lil relationship
-Co-op hours (this is house chores)
-2 hours of service per semester
-Be involved in a non-Christian intentional community
-Follow the house covenant & be held accountable to student house leaders and staff
-We hope you'll attend & invite friends to CSF events
FAQs
Who lives in the campus house? +
Students that are interested in living in an intentional Christian community to deepen their faith while at college and do ministry together. Our aim is to be an encouraging 'home' away from home and not a Christian "bubble." Having our Residents involved in things on campus and in the community that interest them is important. We don't want all of a student's time to be occupied by CSF or 'Christian' things. In order to be a light in the world, we must meaningfully interact with the world around us.
Do I have to be a Christian to live in the campus house? +
Yes, but we have also accepted students that are seriously considering following Jesus and want to live in intentional Christian community.
Do I have to be a part of CSF to live in the campus house? +
Yes. Campus House Residents are students that are involved with the ministry of CSF and desire to live in Christian community. We also have many students that live off-site and are involved with CSF's ministry.
What if I've already signed a dorm lease? +
It's not too late! Currently, IU will accept dorm cancellations. There are differing fees for cancelling depending on the date.
Prior to July 15, the deposit you turned in when you signed your Dorm Contract is forfeited. Between July 15 and the official Move-In date at IU, it is $600 + the deposit. After the Move-In date for IU dorms, it is 60% of the entire housing contract. If you are in this position and interested in living at CSF, please talk with Bill Kershner (bill@csfindiana.org)
What type of payments does CSF accept? +
Funds from 529 Accounts, and 21st Century Scholarship among other scholarships can be applied for Campus House housing costs.
As for the payment schedule, we accept monthly payments from an ACH (like a direct debit from your banking institution); we also accept check or ACH for lump-sum or semester payments.
Are there scholarships or discounts available? +
Discounts are available for students re-signing to live at the Campus House at the current year's rate, minus a 5% discount. New residents pay the current year's rate and would be qualified to receive the discount if they resign for the following year.
What is the staff's role? +
The staff mentor, encourage, love and lead students. We help the Student Leadership Teams and hold the institutional memory for students, because when done right — students are short-term.
What is the food like? Can I make my own? +
Our cook does her best to make tasty, nutritious meals for a crowd.
We can accommodate omnivores, vegetarians and GF with ease.
If Residents have dietary needs or preferences unable to be met through standard meal preparation, the Resident understands and agrees additional fees may be added, after consultation with Cook.
15 meals per week are provided and already included in the cost of the Campus House.
There is a Student Kitchen that is open and available to use 24/7.
Students are welcome to cook/prepare their own food especially during the weekend, when most meals are not provided. *Saturday breakfast is included in the 15 meals per week. Outside of that, Residents can eat left-overs on the weekends from Campus House meals. Also, many go out to eat together after church on Sunday.
What type of rules are there? +
There aren't a ton of rules. The House Policies are in place because it helps the Campus House run more smoothly for everyone. Many of the policies are based off of respecting others. A few of the expectations are that students choosing to live at the Campus House are involved with the ministry of CSF. There's also a Chore Rotation throughout the year. We can talk more about expectations and House Policies in person or during the interview.
Do I have to be friends with everyone? +
You will naturally be closer friends with some people. That's a good thing. While you won't be as close with everyone, we do want everyone to feel like they are able to be themselves and enter into a conversation with everyone.
Is CSF in the greek system? +
No. We are located on Frat Row because the previous occupant of the Campus House was a fraternity.
What type of organization is CSF? +
We are a Religious Non-profit Organization. We have a Board of Directors, consisting of supporting churches and alumni, that oversees the ministry with macro-view. Yet, practically, we are a Student-led / Staff-facilitated ministry. That means we have a large Student Leadership Team with opportunities to serve and lead available on a yearly basis.
On our Thursday night large group gathering (Encounter) is where both students and staff serve together to make an impactful night where staff teach through a book of the Bible throughout the semester and students are up front leading worship and serving the community that gathers. Small groups happen throughout the week led by both students and staff.
How are parking spaces/rooms/roommates determined? +
Parking: It is decided by both seniority and when leases are turned in. Usually, upperclassmen receive the closest parking spots to the Campus House, and underclassmen males get the spaces at the back of the lot for added safety for women.
Rooms: Specific rooms can be requested. Additionally, we look at bed preference (loft, no loft, or no preference) to help determine room placement and attempt to organize the layout out of rooms with neighboring rooms that we think would mesh well.
Roommates: Specific roommates can be requested, but it does need to be a mutual request. You don't need to worry if you don't have anyone in mind. We put roommates together based on a few time-tested categories: (1) how you like to keep your room (messy/clean or somewhere in-between) and (2) sleeping habits (early/average/late going to bed & waking up). From there, we look at interests & majors. We aren't trying to match BFFs, but compatible roommates. Residents aren't solely in their room when they are not in class, but we do want rooms to be a place where each roommate can relax and be comfortable.
What is the difference between a personal home and a ministry home? +
Living at the Campus House is both a personal home and a ministry home. The Campus House has both private space (i.e.: room shared with roommates) and common space where non-residents are welcome to be. Non-residents stay in the common areas of the Campus House unless personally invited by a resident.
Residents have an important role as they practice hospitality and welcome visitors into their home, which is the ministry home for many people.
Residents are also given certain benefits that non-resident visitors don't have, like access to free laundry, meals at no additional cost and various other perks like Bigs & Littles and convenient access to Staff along with reduced or free admission to various events throughout the year.